Welcome to where tradition meets luxury.
Discover the finest collection of British knitted socks, meticulously crafted in Derby using the softest merino wool. Step into a world of timeless comfort and experience the unmatched quality that only our socks can provide.
The finest natural fibres for luxurious quality, hidden durability and supreme comfort
Personnel selected socks to help you choose the right image for your day
About Merino Wool
Wool is one of the oldest and most universal fibres and has been used for garments and household linens since the earliest civilizations. Wool textiles have been documented as far back as 3000 B.C. The sheared fleece of sheep, wool is warm, naturally insulating, water-repellent, and extremely durable. Raised in nearly every country worldwide, merino sheep are renowned for the best quality wool. Today, Australia produces about 80% of the world's merino wool
What is Merino Wool?
Merino wool is made of the finest grades of wool from the Merino sheep. It is prized for being very soft and comfortable against the skin. Modern technology has made it possible to sort and select only the finest merino fibres. Merino wool has a microscopic diameter – about one-third to one-tenth the thickness of human hair. The smaller the diameter, the finer, softer and less scratchy the fabric will be.
Lustrous merino wool produces fabric that can be worn next to the skin without discomfort, is soft and always provides an exceptional hand and distinctive style. In the dress-goods and knitting trades, the term 'Merino' implies an article made from the very best soft wool. Extrafine Merino is a super premium wool used in the highest quality knits.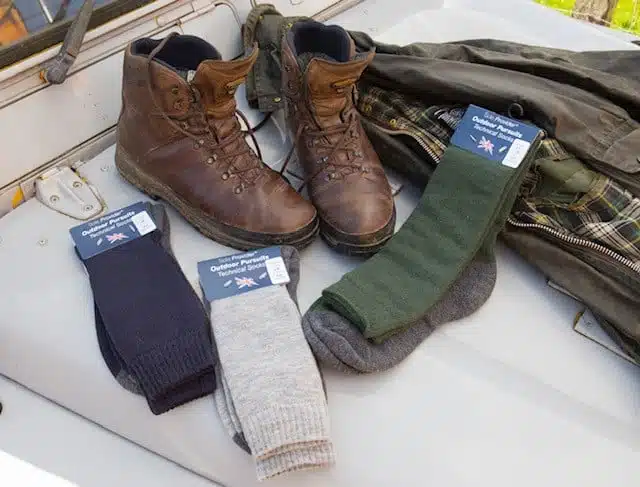 WE'VE BEEN FEATURED
Made by the UK hosiery manufacturers featured in the The Telegraph Fashion

Shipping Info
We deliver with Royal Mail's standard class delivery service that will ensure you receive your order on time
---

International Postage
As displayed in cart total
Payment Info
---
PayPal verified
This site is verified to use PayPal
NO PAYPAL ACCOUNT NEEDED
Customer Help
As well as our quality and reputation it's our very personal approach to customer service, which sets us apart from other online shopping experiences.
---
Telephone: 07415 600 688
Email: info@turnerandsons.co.uk
The Merino wool socks are excellent. It is hard to find plain black city socks in wool nowadays. These are very comfortable and reasonably priced.
Brigadier N
My husband has never had such fantastic socks. They look so good and wash so well.
Mrs J F, Derby
Provides great comfort on a hard working cold winter's day.
Mr R H, Vehicle Technician, Nottingham
You just can't find long socks of this quality and comfort anywhere else.
Dr D J, Somerset
Simply the best!
Mr G A, Solicitor, Nottingham
Im 80 years old – these are the very best quality socks I have ever owned.
Mr A C, Retired, Norfolk
I bought two pairs, was so impressed I threw out all my socks in the drawer and replaced the whole lot with these wonderful ones
Colonel C M, London
where to buy men's socks?
You can buy thick wool socks in many places, and you will find many right here at Turner and sons. our Cotton Argyle with a CoolMax® Sole These socks containing Coolmax, are made from specifically engineered polyester fibres from ADVANSA with an increased surface area. This special four channel fibre forms a transport system that pulls moisture away from the skin to the outer layer of the fabric. It then dries that moisture faster than any fabric and thermoregulates the body
What Temperature to wash wool sock?
Machine wash on a Gentle / Delicate Setting in a 'warm wash' not exceeding 40 degrees Centigrade or 105 degrees Fahrenheit
Do NOT Bleach
Do NOT Tumble Dry
Do NOT Iron
Do NOT Dry Clean
Our Micro-Grip socks are ideal for people with diabetics you will find a pair in our store
Our Micro-Grip socks are ideal for people with swollen legs you will find them here in our store
socks for swollen feet and ankles?
Our Micro-Grip socks are ideal for people with feet and ankles you will find them here in our store
what is the best material for socks?
Merino wool rich or combed cotton rich is best.
what are men's crew socks?
Usually describes a sock with an elastic ribbed leg & loop pile sole.